Pedal Commander | The Best Throttle Response Controller & Performance Upgrade Tuning
What is
Pedal Commander ?
Shortly, it is:
A small tuning box, which will make you smile at the first touch of your pedal.
An exhilarating experience, as you unleash the hidden power in your engine.
A life changer, which will make you refall in love with your vehicle all over again.
A game changer, which will turn all terrains into a playground.
For details and all the technical information, you can watch our video to learn more. After the video, we can discuss in detail how the Pedal Commander can improve your driving experience.
How will you
react in first touch?
Get ready for a mind-blowing experience as Pedal Commander will make you feel:
Shocked, you won't believe you are driving the same vehicle

Happy, you can enjoy power without always killing fuel mileage

Empowered, you get to control exactly how you want your gas pedal to respond

Confident, you can control your throttle on-demand using the Pedal Commander app

Sad, you didn't get one sooner
There are so many options,
Why you should choose Pedal Commander?
#1
Pedal Commander
Other brands
Pedal Commander doesn't harm your vehicle and is certified, and others are not.

You can plug-and-play the Pedal Commander by yourself in 15 mins, while others may require professional assistance.

The Pedal Commander has a 2-year warranty and is 100% reversible; other brands have a shorter warranty.

Pedal Commander is Bluetooth compatible, so you will be able to have complete control over your throttle in the palm of your hands. Some other brands lack this feature.

The Pedal Commander is untraceable and doesn't void your warranty, while others may flag your ECU.
Check out 36 modes
Pedal Commander
Discover the power!

The Pedal Commander offers 36 different sensitivity levels to suit any driving style and road situation, with four significant modes and nine additional settings for each mode. Let's discover these mode settings.
Eco Mode:

Provides a slower response to help you maximize fuel economy by up to 20% over stock ratings. The significantly slow response also allows for better traction over various terrains (rain, snow, mud, dirt, etc.). Eco Mode Decreases the throttle response sensitivity with nine different sensitivity levels from -4 to +4.

City Mode:

Gives you a more active throttle response, perfect for everyday driving. This offers you a response "Old School" throttle cable; a 1:1 pedal-to-throttle acceleration ratio. Suitable for driving in city traffic. City Mode increases the throttle response sensitivity with nine different sensitivity levels from -4 to +4.

Sport Mode:

Makes your vehicle even faster for spirited driving. This mode is not for the light-hearted and is our highest suggested mode for around-town driving. Sport Mode increases the throttle response sensitivity with nine different sensitivity levels from -4 to +4.

Sport+ Mode:

Sport mode is our most extreme mode! This mode gives any vehicle the response and acceleration of a race car, allowing you to get up and go with ZERO ag from your EC. Perfect for race and track use. Be sure to use it with caution. Sport + mode increases the throttle response sensitivity with nine different sensitivity levels from -4 to +4.
You can adjust all of these modes via our mobile app! Just keep in mind that you shouldn't use your phone while driving, so use the app only when the vehicle is still.
Best features of
Pedal Commander
Saves You from Throttle Lag
Your gas pedal will forever be free of throttle lag.
Vehicle-specific Programming
Each unit is programmed specifically for your vehicle to ensure the best results.
Improve fuel economy
Helps maximize fuel economy up to 20% over the stock ratings with ECO mode.
User-friendly Interface
Designed to provide the best comfort and accessibility during usage.
Top Quality
Offers the highest quality with up-to-date technology.
Undetectable
Undetectable and will not void your vehicle's warranty.
Bluetooth Enabled
Equipped with Bluetooth for easy smartphone access.
Full Coverage
Covered by a 2-year warranty for your complete satisfaction.
Easy Plug-and-play Installation
Installation is painless and straightforward, you can do it by yourself!
Wide Range of Supported Vehicles
Fully compatible with all major makes and models.
Full Customization
Provides full customization with 4 modes and 36 sensitivity settings.
Safety Guaranteed
Does not interfere with your vehicle's engine.
Check out our
Free Mobile App
More than just a box!

In case your Pedal Commander unit is out of reach and hidden somewhere underneath your dash, we've made it accessible to control the unit right through your phone with our app for iOS (10.0 +) and Android (5.0+). Download it here for free on the App Store or Google Play.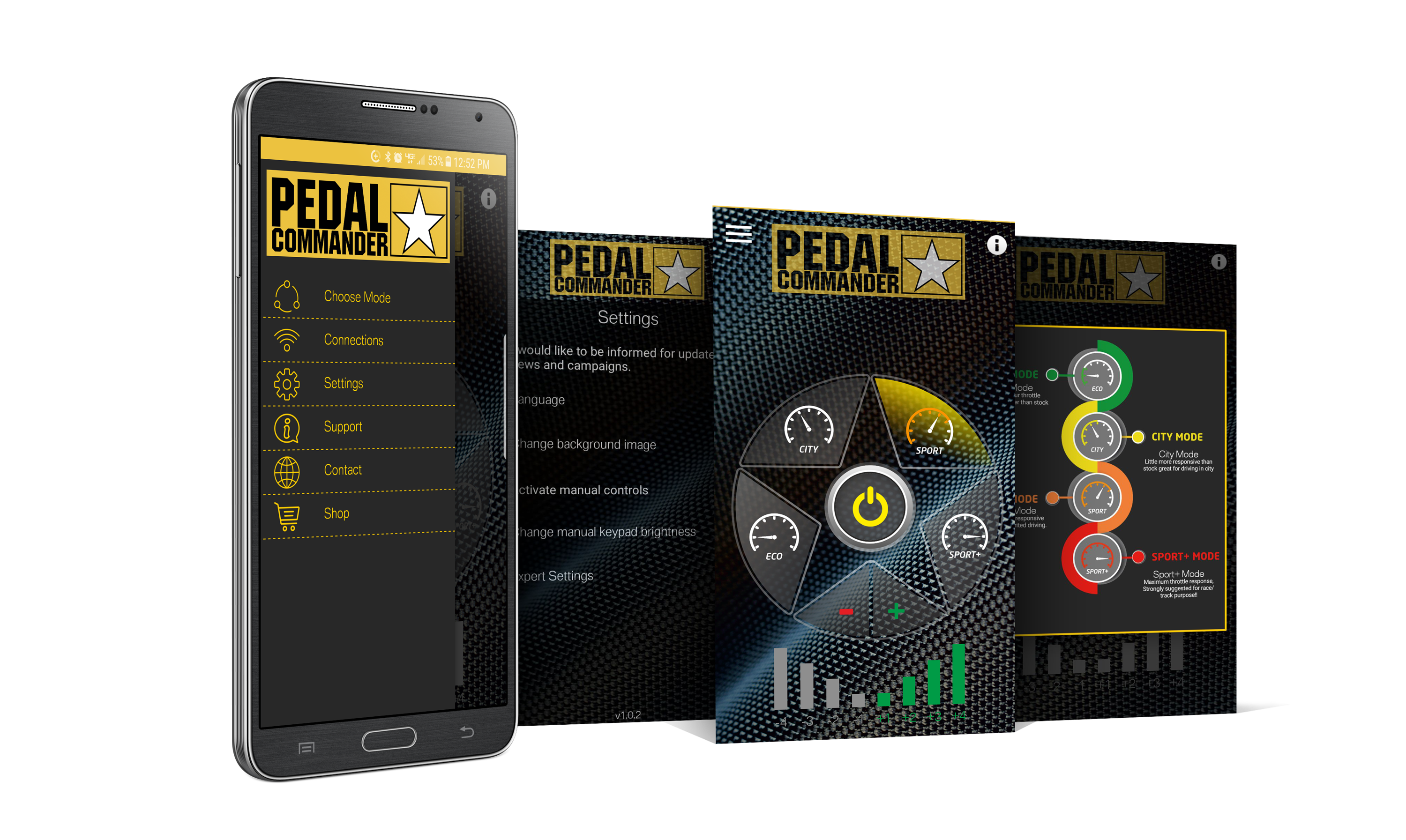 Influencers who recommended
Pedal Commander
Professional Drifter
Odi Bakchis
"It's not laggy. It feels like a racecar; you get a response!"
UFC Fighter
Tony Fergusson
"This is awesome. Whoever made this is a genius."
Influencer
Destin Cantre
"Soon as you try it, you're sold."
Influencer
Blake Wilkey
"These little units are top-notch."
Off-Road Racer
Cadence Cowan
"Better throttle response with holeshots."
Formula Drift Driver
Matt Field
"I definitely notice the difference!"
Professional Figher
Cowboy Cerrone
"Throttle on full kill, you'll be golden!"
Influencer
Kill Bambi
"I recommend you get one if you like to Full Send It!"
MMA Fighter
Jose Estrada
"I recommend everybody get one!"
Influencer
Capron Funk
"It's like turning a regular car into a Ferrari!"
Influencers
Chris Harikian
"I'm never going to drive it in the zero mode again!"
Influencer
Corey Funk
"In sport mode, there's a huge difference!"
Professional Boxer
Mikey Garcia
"It's very responsive, and it's crazy!"
Influencer
Emelia Hartford
"Once you get used to it, I can't see driving without it!"
Influencer
Freshhkiicks
"It's Kicks approved!"
Influencer
Gigi Papasavvas
"It's really responsive!"
Influencer
Matt Jensen
"It's so much more instant!"
Influencer
Ruckus Company
"Still surprised even knowing it had increased response!"
Influencer
Shawn Illingworth
"It feels like it added 50 horsepower!"
Influencer
Suited Racer Dre
"It's faster; it's more responsive!"
Here is some
Frequently asked questions
GENERAL

CAN I USE PEDAL COMMANDER SAFELY ON MY VEHICLE?

Of course. Be careful about your speed, though! Pedal Commander only gives stock power to you in a shorter time. This means we are not exceeding or overpowering anything on your vehicle. Don't forget to warn the people in the vehicle about the speed they are about to encounter!

MY VEHICLE HAS A WARRANTY, DOES PEDAL COMMANDER VOID IT?

Not at all. The reason is, when you go to the service for any repair work on your vehicle, they will first scan your engine via a computer. Pedal Commander does not leave any traces on your vehicle. When you take your vehicle to your manufacturer for any reason or when you want to sell it, you can just disconnect the Pedal Commander, and it will be like it was never there!

WILL I GET MORE HORSEPOWER WITH PEDAL COMMANDER?

Pedal Commander does not increase your engine's horsepower, but horsepower is not the important thing here! Even if you have a lot of horsepower, it means nothing if you can't reach it quickly. So, you never feel your engine's actual horsepower if you don't have Pedal Commander installed. After the Pedal Commander, you will see that the horsepower is not what really matters.

I ALREADY DID SOME CHIP TUNING OR APPLIED TUNERS, IS PEDAL COMMANDER COMPATIBLE WITH THEM?

Of course! Pedal Commander only behaves within the safety parameters of your vehicle engine. It doesn't matter whether your vehicle is stock or already chipped. Pedal Commander is completely compatible with any other aftermarket parts you may already have. And since we don't use the OBDII port, this means it's a perfect match to compliment your existing tune or programmer to fully customize your driving experience.

I DON'T WANT TO GO TO A MECHANIC, CAN I PLUG IT MYSELF?

Absolutely. You don't have to go to any mechanic. This means no one will touch or ruin your vehicle. After you get the Pedal Commander, you only need to watch the installation video we put above on this page. As we said before, plugging in the Pedal Commander is as easy as plugging your smartphone into the charger.

WHAT ABOUT FUEL ECONOMY? CAN I SAVE SOME FUEL WITH IT?

Of course. In Pedal Commander's "ECO" mode, you will reduce your throttle response sensitivity, and you will automatically improve the MPG. It can save up to 20% fuel!

I USE MY VEHICLE IN HARD CONDITIONS, IS PEDAL COMMANDER WATERPROOF?

Pedal Commander is not waterproof, but it is water-resistant. So keep that in mind.

I WANT TO BUY IT, BUT IS IT COMPATIBLE WITH MY VEHICLE'S FUEL TYPE?

If your vehicle's body and the engine are in the dropdown list on our homepage, it is compatible! If you want to find a short answer, Pedal Commander is compatible with all fuel types.

MANUAL OR AUTOMATIC TRANSMISSION, DOES IT MATTER?

Nope. It doesn't matter. Pedal Commander works with both automatic and manual transmissions.
PRODUCT

CAN I CHANGE MODES WHILE DRIVING MY VEHICLE?

We don't recommend doing that. To avoid any complications, you must stop and take your feet off the gas pedal when changing modes.

THERE ARE INCREASING AND DECREASING BUTTONS ON THE APP. WHAT ARE THESE?

These are Pedal Commander sensitivity levels. In every mode you have selected, you will see -4 and +4 options to increase and decrease sensitivity. So you can choose the best fit for you and your conditions.

DO I NEED TO START THE PEDAL COMMANDER EVERY TIME I USE MY VEHICLE?

Of course not. Pedal Commander has a memory and your last option stays on your vehicle. So you will not have to start it again and again.

SHOULD I CLOSE THE PEDAL COMMANDER WHEN I AM DONE DRIVING?

Don't worry about that! Pedal Commander automatically shuts itself off when you stop your vehicle.

WHAT ARE THE DIFFERENT MODES OF PEDAL COMMANDER?

To change modes, go to your Pedal Commander mobile app or press the buttons which are placed on the device. Then, select between the four different modes available:

ECO:

Allows you to maximize your fuel economy by up to 20% over the stock ratings. This significantly lowers the response rate for better traction.

*ECO mode is not in effect while your vehicle is in cruise control.

CITY:

Perfect for daily driving. Gives you a more active throttle response and allows your vehicle to accelerate much faster.

SPORT:

Our most dynamic driving mode. This is our most extreme setting for around-town driving. Sends the signal 70% faster than stock rating.

SPORT+:

Our most extreme setting. Gives any vehicle the response and acceleration of a race car. Perfect for racing at the track.
SHIPPING

I BOUGHT THE PRODUCT, HOW LONG WILL IT TAKE TO ARRIVE?

Pedal Commander orders are shipped Monday to Friday between 9:00 AM to 12:00 PM PST (excluding some holidays). Shipping costs will vary depending on the shipping method you choose during checkout. Check your email for tracking information.

I WANT TO BUY THIS PRODUCT BUT I'M NOT IN THE USA, IS IT POSSIBLE?

We do have international shipping available on our website. Depending on the Duties and Taxes Law for the selected country, custom fees may apply. It is the customer's responsibility to pay these fees upon delivery of the package.

I ENTERED THE WRONG ADDRESS, AND THE ORDER HAS SHIPPED. WHAT WILL HAPPEN?

We ship orders to the address provided by the customer at checkout. Once an order is forwarded to shipping, we will not be able to correct the address to which it is delivered.

If you entered an incorrect shipping address, please read the following options which can be taken to resolve the issue.

Contact the post office:

If the package is being delivered to the same town, but the street or house number is incorrect, you should be able to contact your local carrier and request a local pick-up. This will prevent the package from being delivered to the wrong shipping address that was entered.

Wait for the package to be returned to us:

The package may be refused by the resident at the current address or delivered by the carrier. In these instances, the package will then be returned to our warehouse, and we will contact you to ask for the next step.

Contact the reception desk:

If the address the package was shipped to has a reception desk, you can contact them to see if they have received your package. Tell them to keep an eye out for your package and return to the sender or keep it there for you to pick up.

We, unfortunately, are not able to issue refunds or replacements for orders that were placed with an incorrect shipping address.
RETURNS

ABOUT RETURNS

We want to make sure that each customer is satisfied with their purchase. If you're looking to return or exchange your Pedal Commander for whatever reason, we offer returns or exchanges within 30 days of receiving your order. You can return your product for an exchange with a different Pedal Commander (no charge) or a refund to the original payment method (there is a $9 processing fee).

If the returned product is damaged, you may qualify for a partial refund. We will assess the conditions once we receive the product back and notify you if that return is not qualified for a full refund.
WARRANTY

ABOUT WARRANTY

Each Pedal Commander purchase comes with a 2-year product warranty as long as you can provide a copy of your receipt and purchase it through an authorized seller. This warranty is not transferable if you sell the unit or if you purchase it used.